by Ridley
Who would have ever thought, that in this great country of commercial capitalism, this beautiful cesspool of opportunity, that a humble man such as myself would be able to launch his own fast food franchise for $1.00?
Too good to be true? Certainly not if there's an "all items $1.00" store near you! When I saw this complete restaurant kit, I knew my ship had come in. I immediately called my boss on my cell phone and resigned. I also had a few choice words for what he could do with my position as Chief Pie Taster at Kelby Pies, Inc.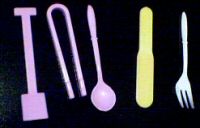 Yes sir, this all-in-one N-Convenient restaurant kit has it all! Two burgers, a burger carton, an order of potato chip, two drink cups with lids, a hot cake, a hot cake carton, two ice cream cones, two serving trays, and cooking utensils which include a fork, spoon, shovel, tweezers, and a tongue depresser!
This last item I found a little perplexing. At least until I found myself choking on a plastic patty. Thinking fast, I plunged the depresser down the farthest reaches of my throat, dislodging the patty from my treychia.

Apparently The Corporate Franchise has strict rules that govern my prices. A template for my menu was provided with the packaging. Although I kind of wonder why our ice cream cones are called Ice-Ceream, I have a theory that it has something to do with copyrighting. I suppose it's the same way with our french fries. I believe I have to sell them one at a time and they're called "Potato Chip". I have to sell an order of "Potato Chip" in bulk, in a carton of 38. So a carton of "Potato Chip" costs $76. Ladies and gentlemen, I have struck gold. If I only sell one carton of "Potato Chip" on opening day, I will have made $75 profit!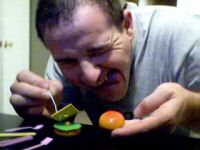 I plan to open the doors to my new restaurant bright and early Saturday morning. With great skill I deftly prepared the two burgers for opening day.

I love the innovative idea behind this food. You can't really eat it. You order the food, pay me ridiculous amounts of money, then take your tiny tray to a booth and pretend to eat. Don't worry though. You're not consuming any of the deadly grease and sodium that are normally ingested during a visit to your typical "fast food" restaurant.

I project earnings for the fiscal quarter to be well above operating cost, with a profit margin of 97%.

I called the local government to see about obtaining a business license so I could have my grand opening ASAP. I suppose no one is in that office at 11:00 at night, so I looked up the home phone number of the City Clerk. He was very helpful! After he had a good belly laugh, (no doubt to celebrate my good fortune), he informed me that I wouldn't be needing a business license, but he knew a good doctor that would help me out and gave me his phone number.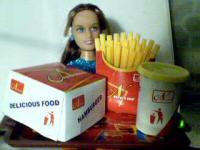 I kindly thanked him for his concern, but assured him that there was no need for a nutritional consultant. He laughed so hard after I said that, he dropped the phone. I apologized when he picked it back up, when I realized he thought that since my business is "renting" play food, I wouldn't need a license, but a good financial backer. I informed him that I had plenty of $1.00 bills and if I wanted to open more franchises, by God, I'd finance them myself. His hysterical laughter that erupted that moment infuriated me to slam the phone down. I then felt sad after doing that, because jealousy can make people do some strange things.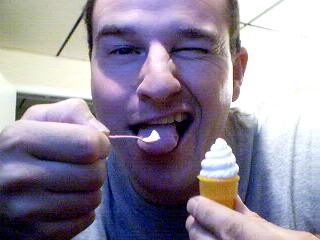 Look out McDonald's, move over Burger King! N-Convenient is coming to town!

- Ridley

Back to Ironic Consumer




Created by J.R. Antrim. Content copyright © 2003. All rights reserved.