by Ridley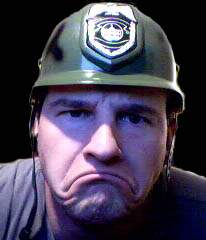 Today is a time when army surplus stores pepper the rural landscape. These stores are usually overcrowded with overpriced military nick-nacks and memorabilia of yesteryear. I want to protect myself and my family in these days of rampant terrorists and a government nibbling away at the freedom of its citizens. The outdated, antique-priced equipment in these stores just aren't going to do.
To my delight, I found that a very high-tech, practical piece of equipment was available to the general public. For the price of $1.00. That's right, now pick your jaw up off the ground, because I'm about to review one of the first pieces of military gear to hit the public market. I'm talking about the AG 10X2 battle helmet.
I'm not sure what defence contractor decided to allow the public access to what our military servicemen and servicewomen are probably using this very day. I can't find their company logo anywhere on the helmet. The only words inscribed on the inside of the helmet is an ingenious method of keeping it out of enemy hands. The message says: "CAUTION: This is only a toy. Do not use this as a safety protective helmet." Then the icing on the cake... "Made in China". Genius!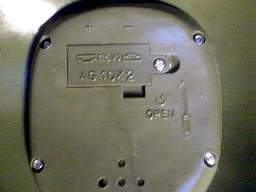 As you can see from the pictures, the AG 10X2 is made out of a high strength polymer that is only about 1/8" thick. It is regulation green with standard army woodland camoflauge spraypainted on. The brim that goes around the rim of the helmet is specially designed to deflect rain and the refreshing spray of a fellow commando's blood and teeth after a grenade mishap. It comes with a two piece chinstrap, that happens to be my only complaint about the helmet. It isn't long enough to fasten on my chin. Now I am of modest mandible build, and I believe that they designed the helmet for people with weak chins or degenerative jawbone disease.
The emblem on the front of the helmet is where the electronics for the communication device is located. I assume that it has a purpose similar to On-Star, the service for high-end automobiles. I pressed my emblem to activate it and I immediately got a response. The man communicating to me must be rather trigger-happy, because without assessing the situation, he immediately unstructed me to "fire! fire! fire! fire!" and he intervened with sounds of machine gun fire to help confuse my attackers. Then at the end, he told me to not move and drop the gun. I suppose that's for when the authorities come, that way they won't mistake me for a criminal. I tried thanking the man, but he would only give me the same advice over and over again. Click here to hear the response I received.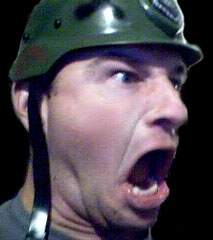 When I put on this helmet, I can smell spent bullet casings, taste foreign soil blown by fierce winds across my tongue, and hear the melodic cries of horror erupting from mass graves of old. It makes me feel safe and secure. I proudly marched around the outside of my house a few times, and assured my neighbors that if our block came under attack, the response would be firm and swift. They must have been awestruck by the AG 10X2's menacing appearance. They could only smile and nod. I thought it would be a good idea to stroll up and down Main St. downtown a few times, to let the local shopkeepers know that their safety has increased tenfold.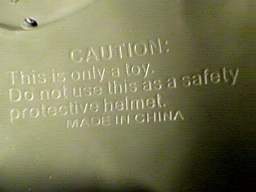 Other than a few heckles from some silly teenagers and elderly veterans (who obviously are shell-shocked or senile), my community was rather happy and full of joy and laughter that one of their locals is now outfitted with a helmet of military superiority. But, alas, appearances aren't everything. If I am to entrust this helmet to protect my precious brain from enemy fire, I have to see for myself how well it holds up to a high caliber round of live ammo.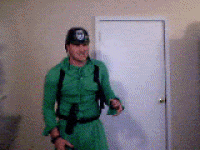 TThsis hlelmet d ddoenst' delefletct buleetss tooo gOoOD. I gIVee tihis hemlel 12 uot off 6.3e sstarsds/.
- Ridley once donned a cardboard box and became Mechwarrior Ridley. Armed with a potato gun, he laid waste to his tool shed. The oil of fallen lawnmowers ran thick that day..
Back to Ironic Consumer
Created by J.R. Antrim. Content Copyright © 2003-2005. All rights reserved.